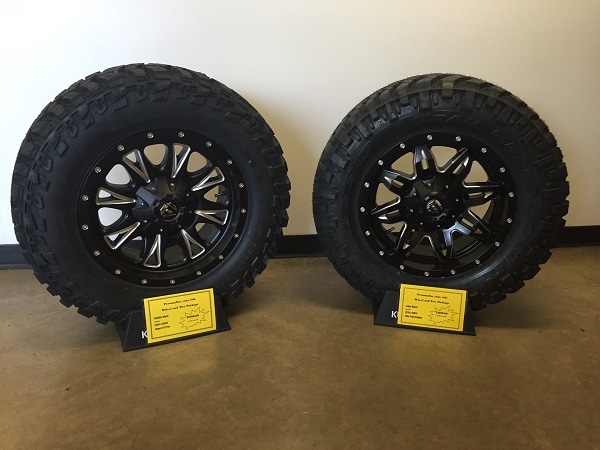 Tire Repair in Kenai
There are bumps along the road can do damage to your vehicle. Luckily for you, Kendall Ford of Kenai offers tire repair to get you safely back on the road. Our Ford Service Center is here to take care of everything you need from a flat tire to wheel alignment to wheel replacement.
Contact us
online or by phone to
schedule service
and our team of service technicians will have you taken care of according to your needs. Your tires are the only part of your car that has any physical connection to the road. It's important that your Ford tires are in peak condition to maximize your safety and the safety of our vehicles on the road around you. With Kendall Ford of Kenai, our team is available to help you get the proper tires for your Ford car, truck, or SUV as well as the harsh conditions that cover Alaskan roads. Whether you're looking for the proper Ford tires to tackle the off-road, up the performance of your Ford vehicle, or you want to safely drive through winter road conditions, your Kenai
Ford Dealership
has the team to help you find what you're looking for.
Equip Winter Tires
In RWD and FWD vehicles, drivers sometimes think the two drive wheels are the only important factors when changing to winter tires while the other two tires are just along for the ride. This mindset is outdated and no longer relevant because the design and composition of modern winter tires has changed over the years. Today's winter tires are made of different composites and designs that increase winter weather traction by 25 to 50 percent more than older tires. The rubber used on modern winter tires also helps adapt your driving experience toward dry and wet road conditions. Using just two winter tires on a vehicle results in uneven traction that can have serious handling consequences. Using four winter tires ensures optimal traction and control for your car, truck, or SUV. It's extremely important to always use four winter tires to ensure you're equipped with maximum safety.
Performance Tires
Whether you're driving a Ford Edge ST or a Ford F-150 Raptor, you crave power and performance. Take the performance of your
Ford car
, truck, or SUV with performance tires that are specifically designed to enhance the responsiveness, traction, and precision of your vehicle. Similar to winter tires, performance tires are composed of special compounds that are meant to enhance traction in wet and dry conditions. However, there are small sacrifices that come with the traction gained from performance tires. Drivers will notice that gas mileage suffers as well as passenger comfort and tire lifespan. Talk to our helpful team at Kendall Ford of Kenai to find out if performance tires are right for you, your vehicle, and your driving style.
Off-road Tires
With the sprawling wilderness in Alaska, there's plenty to explore. Equip your Ford car, truck, or SUV with off-road tires so that you can see all there is to see. Designed to dig deep into dirt, mud, or snow, off-road tires are built oversized with deep tread wells and extra lugs. Your off-road tires are ideal for muddy conditions that stand in the way of you and your destination. Though some drivers may feel that off-road tires are ideal for Alaska's snowy conditions, it's important to remember that the two are not interchangeable. Snow can compact in the deep tread wells of off-road tires and make the added traction moot. Ask the team at Kendall Ford of Kenai which tires are best for you and your vehicle to gain the full benefit of your Ford tires. Come see us today at 10288 Kenai Spur Hwy Kenai, Alaska 99611, proudly serving the surrounding areas of Soldotna, Homer, and Seward.