Why buy tires from a Ford dealership?
We've got the brands. We offer a full line‐up of tires for 16 quality name brands including the replacement tires that fit your car, truck or SUV – all designed to make the most of your vehicle's performance, saving you time and money.
Tire Offers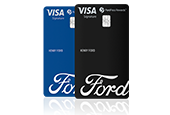 Get Everyday Special Financing on Vehicle Service With the FordPass™ Rewards Visa® Card. *
*This is an advertisement. Please see the Summary of Credit Terms for important information on rates, fees, costs, conditions and limitations. You must pay your entire statement balance (including all promotional purchase and balance transfer balances) by the due date each month to avoid being charged interest on new purchases from the date those purchases are made, unless your new purchases are subject to a 0% interest rate. Special Financing Offer Details: Purchases in which single or multiple items are purchased in the same transaction totaling at least $499.00 at Ford Dealerships will be referred to as "Eligible Purchases? in your Summary of Credit Terms. All transactions are subject to approval. Accounts are eligible only if they are open, in good standing and not already subject to special terms. All other terms of your account remain in effect. Minimum monthly payments required are subject to a 0% interest rate.
**For additional information about Annual Percentage Rates (APRs), fees and other costs, see the Summary of Credit Terms.
Why choose Kendall Ford of Kenai for your tire needs?
The factory‐trained service technicians at Kendall Ford of Kenai know your vehicle best and are ready to help you find the best tires for your specific model at the best price possible. In fact, we offer great tire deals on 14 quality name brands:
Goodyear
Dunlop
Michelin®
BFGoodrich®
Uniroyal®
Kelly Tires
Continental
General Tire
Hankook
Pirelli®
Bridgestone
Firestone
Yokohama®
Nitto Tires
Other benefits of Kendall Ford of Kenai tire services include:
Full‐service maintenance and repair facility
Parts and labor warranties
Clean, comfortable waiting areas with free Wi‐Fi
Shuttle service to and from your home
Friendly and knowledgeable staff
Ready for a rotation or new tires?
The Ford Service Credit Card
The Ford Service Credit Card is a financing option that lets you pay for all service maintenance and repairs, including tire purchases and installation at Kendall Ford of Kenai and other Ford Dealers across the U.S. It only takes a few minutes to apply and receive the decision.
Upon credit approval, you'll be provided with a credit line to assist you with all instore purchases, including:
Ford Motorcraft® batteries
Parts
Accessories
Tires
Extended service plans
Rental vehicle
Body shop repairs/deductions
And more
The Ford Service Credit Card
COUNTLESS ROAD TRIPS CAN WEAR OUT PASSENGERS.
AND TIRES.
Tire Service in Kenai
Your Ford tires are the only part of your car that touches road. Because of this, they can't just be great quality, they also need proper maintenance with regular tire service and inflation checks. Tire pressure dissipates over time and can lead to uneven tread wear. This not only shortens the life of your tires, but it can cause dangerous traction issues, especially in extreme weather conditions like you experience in Alaska. In addition to this, improper installation of your tires can lead to unbalanced tire rotation and instability while driving. Get your tire service done right the first time at our Ford Tire Center. Our expert technicians will install your tires, perform a maintenance check, and help you choose the right winter, all-weather, or summer tires for your vehicle. We also have many tire-related services such as wheel alignments, tire & wheel balancing, tire rotation, and tire pressure checks. We have the latest technology to make sure your next tire rotation or wheel alignment is done fast and high quality.
Kenai Ford Service Center
The friendly and knowledgeable team at our 
Ford Service Center
 is here to help you find the right Ford tires you're looking for. We'll make sure that you get the proper tires to fit your Ford car, truck, or SUV. 
Schedule service
 online to save time on your next tire service in Kenai. The job of our service technicians is to make sure that your car will keep you safe on the road. A tire inflation check is a small step that you can take to ensure that your tires are safe for the road ahead. Contact us today to schedule an appointment with our Ford Tire Center for a new set of tires, or a tire inspection at Kendall Ford of Kenai.
Questions about Tires? Let us Help!
* = Required